Using Easy Shipping Restrictions for Local Deliveries
February 23, 2018
Tags:
howto
,
local shipping
,
use case
If your shop is looking to sell services or products online through Shopify but only to a specific area, Easy Shipping Restrictions can help you out. By specifying which postal/ZIP codes you deliver or ship to, Easy Shipping Restrictions can enable you to only allow customers to proceed to checkout if they are in your defined area. There are two ways to specify postal/ZIP codes in Easy Shipping Restrictions: individually and by using patterns/wildcards.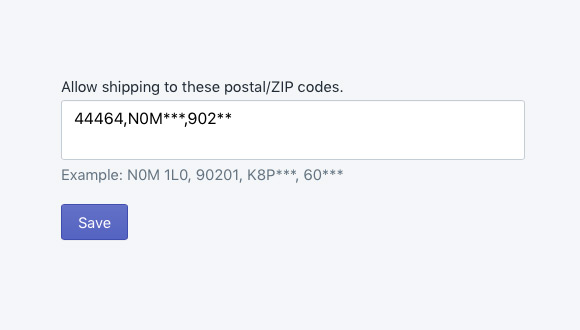 Individual Postal/ZIP Codes
You can add individual postal codes to Easy Shipping Restrictions from within your Shopify Admin. Postal/ZIP codes listed within the app (found under Apps > Easy Shipping Restrictions) will allow customers in those areas to convert their carts into checkouts.
Using Patterns
If you are adding a large number of postal/ZIP codes or intend to cover a city or two, using wildcards can greatly help. For example, say you wanted to allow orders to only customers in London, Ontario. You could list each individual postal code but there are so many of them. Instead you can make use of wildcards to allow any postal code starting with NV5 by using NV5***.
Find Out More
Dig in more with Easy Shipping Restrictions by having a look at some of the most Frequently Asked Questions we get. Or even better, give Easy Shipping Restrictions a try today (we have a free three day trial).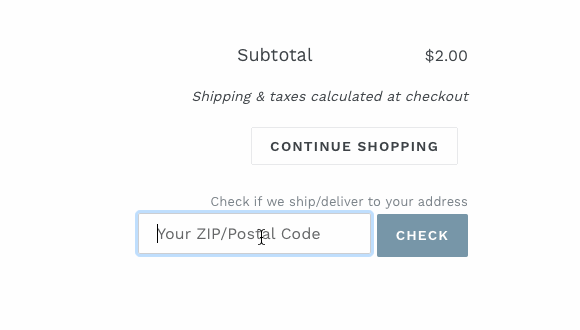 Sign Up for Easy Shipping Restrictions
Free Trial for 3 Days